Protect your manhole covers, valve boxes, curbs, markings, reflectors and cobblestones with Tundra Tamer™ Snow Plow Cutting Edges by Argonics. The polyurethane blade will absorb the shock produced by impact and will not crack the cast iron and concrete structures.
Shop now!
Our polyurethane cutting edges are hard enough to scrape your driveway or road surface clean, yet flexible enough not to damage raised or uneven surfaces.
Let our experience work for you!
Our plow blades are manufactured with the same Kryptane® polyurethane that has been used in the mining industry for the past 27 years. It is engineered to handle extremely harsh environments, and snow and ice are no match for it!
Argonics' years of experience mean that our cutting edges are ideal for use in large-scale and municipal applications, for snowfighting professionals on their truck and tractor plows, and for homeowners on truck and ATV/UTV plows.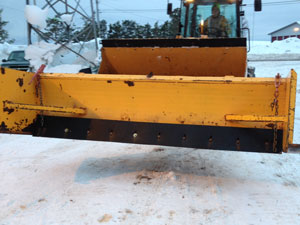 Designed to withstand the harshest winters
Polyurethane outlasts rubber 3-5 times, reducing truck downtime
Reversible blade doubles the wear life
Noise reduction for both residential areas and the driver
Absorbs shock, creating less wear and tear on vehicle and less driver fatigue
Universal design means our blades fit any plow on the market
Use on:
Truck blades
Box plows
Dozer blades
ATV and UTV blades
Tractor blades
Road grader wings
Downloads:
Order now!
Customer photos