Description
Argonics snow blower paddles last four times longer than OEM rubber rotors. Because you won't remember how many years ago you installed them, they come with wear indicator nubs to help you visually see when it's time to order more.
Features of the Argonics paddles:
3/8″ thick, one of the thickest available
Wear indicator nubs
Lasts 4 or more times longer than OEM rubber rotors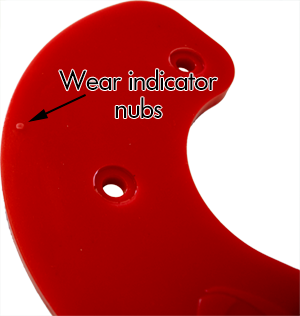 Argonics' Kryptane® polyurethane formula has been trusted in the mining industry over the past 25 years, where it's known for its superior abrasion-resistant qualities. Snow and ice are no match for it!
The Tundra Tamer paddles fit Toro Power Clear 621/721/821 series single stage snow blower and Lawn Boy Insight snow thrower. They also fit more than 80 different models of snow blowers and throwers. See the FAQs for the complete list of OEM part numbers.
There is no adjusting or modifying needed; the paddles align with the existing mounting holes on the rotor. Hardware is not included, but most customers simply reuse the existing hardware to mount the new paddles.
The common OEM part numbers that they replace are 55-9250, 55-9251, 88-0771, 99-9313, and 125-1128.